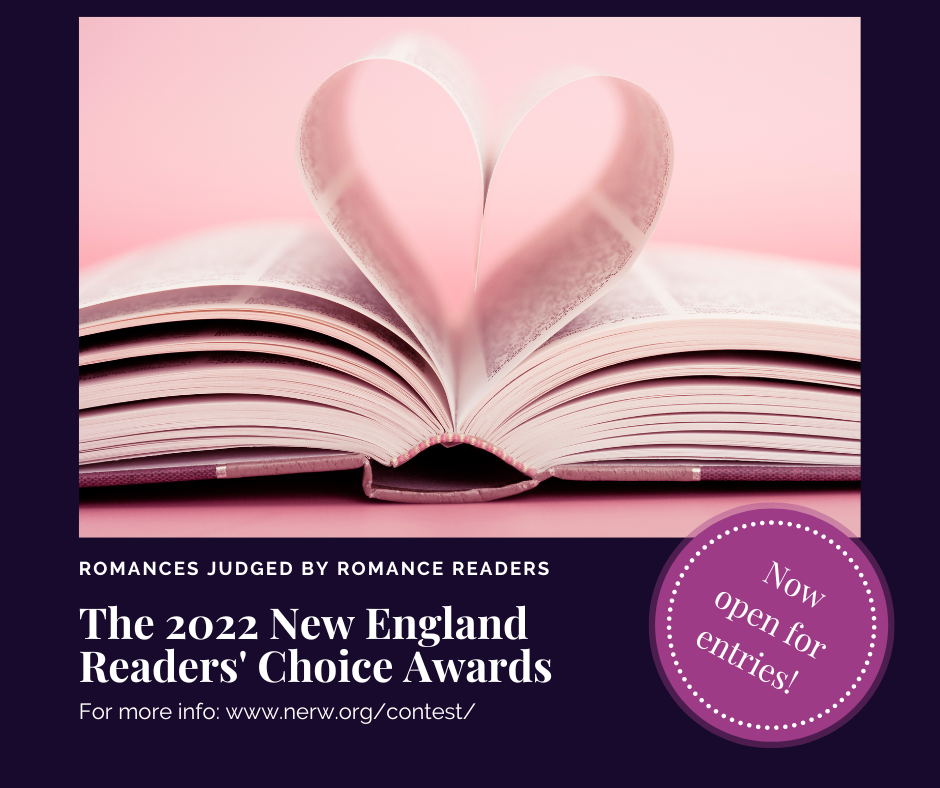 New England Readers' Choice Contest for Published Authors
---

Are you a romance reader interested in judging the New England Readers' Choice contest? Fill out our Judging Sign-up Web Form.
Questions? Please check out our Judging FAQ with more information, or contact [email protected].
---
THE 2022 NEW ENGLAND READERS' CHOICE AWARDS CONTEST
CONTEST INFORMATION
Entries for the 2022 contest are now closed.

Welcome to the 2022 New England Readers' Choice Awards contest for published authors, recognizing excellence in published romance fiction. Our contest is one of the few judged exclusively by fans: librarians, booksellers, and devoted romance readers.
This year, the grand prize winner of the New England Readers' Choice contest will receive a two-session package with writer and life coach Zahie El Kouri worth $700! The first, second, and third place winners in each category will receive a web badge, as well as a printed award certificate. Winners will be announced on the NERW website and on NERW's social media accounts.
Questions? Contact [email protected].
Contest Categories
Contemporary Romance: Long (above 80K words)
Contemporary Romance: Short (40K-80K words)
Erotic Romance
Historical Romance
Paranormal/Fantasy/Sci-Fi/Time Travel Romance
Romance Novella (20-40K words)
Romance with Religious or Spiritual Elements
Romantic Suspense
CONTEST RULES
Entrants are required to accept the Readers' Choice Contestant's Agreement by checking a box on the online entry form indicating their acceptance of terms. The contest opens November 1, 2022 and closes to entries on February 1, 2023 at 11:59PM Eastern Time.
Entrants must be 18 years of age by the date of entry.
Books must have a 2021 or 2022 copyright date and must be RECEIVED by the Contest Coordinator no later than February 1, 2023 at 11:59PM Eastern Time.
Entries may be submitted only by the author or publisher, and must represent the author's own original work published in novel or novella length.
An author may submit more than one book released in 2021 or 2022 with a separate entry form and fee for each title.
Entrants may enter as many novels/novellas as they wish; however, each book may be entered only once, i.e., one book may not be entered in two categories.
The author or publisher must submit one digital (e-pub) copy of the entry to the Contest Coordinators. This digital copy must match the version available at retailers (other than watermarking, which may be added to the entry). If no digital copy is available to submit, print books are acceptable. You will receive instructions on how and where to send books upon receipt of your entry form and payment.
By submitting an eBook entry, the author acknowledges that at least three copies will be sent for judging, or more depending on the need for further scoring.
For print books, entrants must send three (3) copies to the Contest Chair. The mailing address will be emailed to you following receipt of your online entry form. No entries requiring a signature will be accepted, but you may use USPS Delivery Confirmation.
Judges will be gifted the books as a thank-you for judging. Authors, if you are submitting print copies, please autograph your books.
The contest is limited to 35 entries per category.
A minimum of ten (10) entries is required for each category to go forward. Categories receiving fewer than the minimum number of entries must have the approval of the NERW Board to run. If the category does not receive the minimum and the Board declines to run the category, affected authors will have the option to move their entry to the secondary category identified during registration, or to request a cancellation. If cancellation is requested, their print books will be returned, their eBooks deleted from the contest's database and not distributed to judges, and their fees refunded.
Entries that do not meet the criteria of an Original Publication Date in 2021 or 2022 will be disqualified. The entry fee for such entries will be refunded. Print books will only be returned at the author's expense, or will be donated at NERW's discretion if the entrant's request to return the books (and payment to do so) is not received on or before March 15, 2023. "Original publication date of 2021 or 2022" means that the book was originally published in 2021 or 2022 and has a Notice of Copyright date no earlier than January 1, 2021 and no later than December 31, 2022. A book with a Notice of Copyright date prior to 2021, which was not published until 2021 or 2022, will be eligible. A book published prior to 2021, which lists a Notice of Copyright date of 2021 or 2022 in the originally published edition, will also be eligible.
Entries determined to be plagiarized in whole or in part, or to lack a central love story with an emotionally satisfying and optimistic ending, will be disqualified for content.
Entries containing abuse or rape for purposes of titillation, bestiality, pedophilia, other illegal or non-consensual practices, or practices that the average romance reader of the genre in question, applying contemporary community standards, would find objectionable, will be disqualified for content.
The NERW Board has the sole discretion to determine whether an entry should be disqualified for any reason, and such decision of the Board is final and unappealable. If an entry is disqualified for content, no refunds will be issued. Print books will be returned only at the author's expense, or, if the author does not request return of their books within thirty days of being notified of their entry's disqualification, will be destroyed or disposed of in the Board's discretion.
Judges will be provided with watermarked copies of ebook entries. NERW also requires all judges to agree not to re-distribute or share digital documents. The author (and, if separate, the publisher) of an entry will be made a third-party beneficiary of the judges' agreement, with the right to enforce the agreement against a judge who breaches it. By entering the contest and submitting an eBook or print book, the author accepts any and all risk associated with doing so and agrees to hold NERW harmless.
NERW will limit access to electronic entry materials to the Contest Coordinators, to our Board members (on an as-needed basis), and to the judges judging each entry. NERW, the Contest Coordinators, and Board members will delete all ebook entries in its/their possession within a reasonable time after the contest winners have been announced.
NERW does not discriminate against judges, authors, or contest entries on the basis of race, color, gender, gender expression, age (18 or over), religion, national origin, marital status, sexual orientation, disability, or political affiliation.
Dates and Deadlines
November 1, 2022
Entry form available online.
November 1, 2022-
February 1, 2023
Contest open for entries.
February 1, 2023
All payments for entry fees must be posted to PayPal no later than February 1, 2023, 11:59 pm EST.
February 1, 2023
Deadline to receive print and digital submissions. NERW is not responsible for lost or misdirected mail. Electronic entries must be received no later than February 1, 2023, 11:59 pm EST.
November 2022-
March 2023
Judges read entries and submit scores.
April 2023
[Specific Date TBD]
Finalists in each category contacted via email or phone, and announced via NERW's web site and social media.
May 2023
[Specific Date TBD]
Winners and Grand Prize winner announced.

Please contact [email protected] with any questions.