New England Romance Writers meets the third Sunday of the month (except as noted) from 1:00 PM - 3:00 PM. There is no meeting in December.
UNTIL FURTHER NOTICE, ALL MEETINGS WILL BE VIRTUAL ONLY, VIA ZOOM.
Please Join Us At Our Next Meeting:
Our November 21st monthly meeting will start at 1:00 P.M. with a workshop presented by author Corrina Lawson on Avengers Assemble! What the Marvel Universe Can Teach Us About Writing a Series, which will be followed by our final monthly business and social meeting of the year.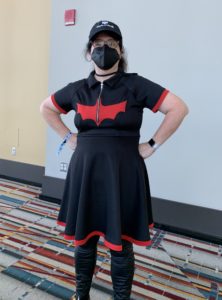 Workshop Description: The Marvel Cinematic Universe is a sprawling storyworld of movies and television shows but, somehow, they've layered in incredible and consistent characterization and worldbuilding. Learn how they did it and how those lessons can apply to your series work.
Bio: Corrina Lawson is an award-winning author of over ten books, including two steampunk detectives books, a paranormal superhero series, and an alternate history series. She's also a certified geek and can tell you how many different Captain Marvels exist. (It's at least seven, by last count.)