Our March 21st monthly meeting will start with a workshop presented by author Meryl Wilsner on Overcoming Writer's Block, which will be followed by our monthly business and social meeting.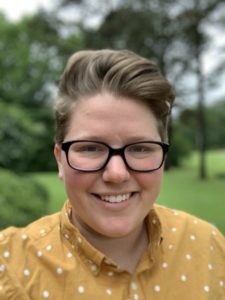 Workshop Description: There's not a group of people more adept at procrastinating than writers, which makes it all the more important for us to be able to write when we actually sit down to do so. This workshop explores common reasons behind writer's block and provides hands-on practice at different techniques for overcoming it.
Bio: Meryl Wilsner writes stories of queer women falling in love. Born in Michigan, Meryl lived in Portland, Oregon and Jackson, Mississippi before recently returning to the Mitten State. Their debut novel, Something to Talk About, received starred reviews from Kirkus, Publisher's Weekly, Booklist, and Library Journal, as well as being one of Amazon, Kirkus, and NPR's best books of 2020. Some of Meryl's favorite things include: all four seasons, button down shirts, the way giraffes run, and their wife.