Our August 15th monthly meeting will start with a workshop titled "The 45-Minute MFA" which will be presented by author Nisha Sharma. The workshop will be followed by our monthly business and social meeting.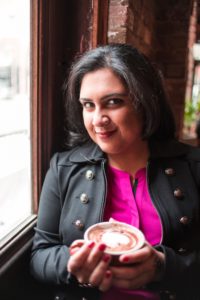 Workshop Description: A master in fine arts degree is one of the most popular education tracks for those interested in a creative writing career. However, not everyone can commit to three years of formalized education. In this workshop, writers will learn about the major principles that are taught in an MFA program such as accessing creative writing resources, networking techniques, reading outside your genre, managing deadlines, and creating a brand. The workshop is suitable for attendees at all skill levels.
Bio: Nisha Sharma is the author of the critically acclaimed YA novel My So-Called Bollywood Life and the follow up, Radha and Jai's Recipe for Romance. She also writes adult contemporary romances including The Singh Family trilogy and If Shakespeare Was An Aunty trilogy (launching March 2022). Her writing has been praised by NPR, Cosmopolitan Magazine, Teen Vogue, Buzzfeed, Hypable and more. Nisha credits her father for her multiple graduate degrees, and her mother for her love of Shah Rukh Khan and Jane Austen. She lives in New Jersey with her Alaskan husband, her cat Lizzie Bennett and her dog Nancy Drew. You can find her online at Nisha-sharma.com or on Twitter and Instagram @nishawrites.